The Los Angeles Center of Digital Art presents Chicago visual artist Karen I Hirsch's art work, "Balance Beam Silhouette" in its current exhibit, "Snap-to-Grid."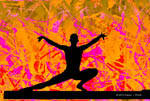 Balance Beam Silhouette   © 2013 Karen I. Hirsch
PRLog (Press Release)
–
Jan. 12, 2013
– Karen Hirsch is showing her image, "Balance Beam Silhouette"  in the current exhibit at The Los Angeles Center of Digital Art.  The "Snap-to-Grid"
exhibit is showcasing work from artists around the world. Opening night for the show was Thursday, January 10, 2013.
Karen I. Hirsch's image depicting a woman gymnast is a blend of photography and digital painting.  Karen I. Hirsch is a Chicago native who is recognized internationally for her imagery.  Her sense of color and design is evident in her photography, abstract paintings and collages. The Chicago Department of Cultural Affairs and the Illinois Arts Council have awarded art grants to her.  In 2007, the Government of China honored Hirsch by inviting her to be one of ten foreign photographers to document the city of Rizhao.  Hirsch's work has been published in books, magazines, newspapers including "Communication Arts" and "Graphis" photo annuals.
Hirsch is a member of the American Society of Media Photographers and immediate past president of Fort Dearborn-Chicago Photo Forum.  Her prints are found in corporate and private collections.